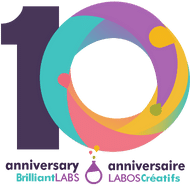 b.BRILLIANT: MAKER TV
Join Alex as she and her fellow makers explore the world by creating with new technology, interviews with experts to help solve problems, and uncovering the mysteries of "BB", a mischievous lab A.I. that seemingly likes to help, but also likes to cause some problems for b.Brilliant's teacher: Mr.Lingley. Plus, after watching the show follow the b.Brilliant Maker Guide to create the projects at home or in-class. Watch season 1 here!
Stream all the b.Brilliant shows on your Bell FibeTV1 app!
EPISODES & MAKER GUIDES:
Alex is introduced to "BB" the lab's mysterious A.I. who starts to show its quirky personality. She then joins her fellow makers to learn about pollinators by making a bee hotel, coding a thermometer to help measure the temperature in a beehive and explores a garden with an entomologist, who is a scientist who studies insects!

Activity 1: Pollinators & how to help
Activity 2: Make a bee hotel
Activity 3: Code a beehive fan
Watch now!
Mr. Lingley is blown-away by BB who tests hurricane wind speeds in the lab, while Alex and her fellow makers explore a hydroelectricity dam, learn about wind power by coding a 'fan-turbine' and bake s'mores with the power of the sun!

Activity 1: Make a solar oven
Activity 2: Hydro electricy
Activity 3: Code a wind-turbine
Watch now!
Mr. Lingley shares a 'leather-like' material that kids can grow at home. While Alex and her fellow makers learn more about Kombucha Leather using SCOBY, explore 3D design and laser cutting to make a bracelet and visit Newfoundland to create a tie-dyed t-shirt using natural dyes from vegetables.

Activity 1: Make bio-dyes
Activity 2: Make & grow bio-leather
Activity 3: Make a Tinkercad design
Watch now!
Ep. 6: Future communities
Makers from Dorchester, New Brunswick, share facts about their town and think about the things it may need in the future. Then, Elora, an Urban Planner from Halifax shares how a city street has changed over the past 100 years and what she and her team are doing to make streets more accessible and safer for people of all ages. Once back at the lab tensions rise as BB doesn't recognize Mr.Lingley and refuses to let him pass. To help understand what's happening, Alex connects with Makers in St.John's Newfoundland & Labrador to learn more about machine learning and filters.

Activity 1: Make & design a community
Activity 2: Explore urban planning
Activity 3: Code to create a facial recognition program
Watch now!
BB is inspired by Scarlett Knight, the first underwater robot glider to cross the Atlantic Ocean, but this discovery comes with its own challenges as BB starts exploring with water. Alex shares how Makers use a green screen for a school presentation. Then b.Brilliant visits the Huntsman Marine Science Centre to examine microplastics and how they affect marine life. Later, Makers create a device using the b.Board to measure tide levels in the Bay of Fundy.

Activity 1: Make a green screen presentation
Activity 2: Explore microplastics & how kids can help
Activity 3: Code a tide level sensor
Watch now!
Ep.9: Sustainable consumption
Alex and Mr. Lingley start to wonder about BB as the lab is glitching. Meanwhile, a Maker in London, United Kingdom, works virtually with Mr. Lingly to learn about 3D design and takes his plans to a community Makerspace to upcycle his old skateboard. Then, back in Saint John, New Brunswick, Kinnon learns how facilities like Fundy Recycling manage people's recycling and compost. Later, students at St. Malachy's Memorial High School share their 'smart-garbage-container' prototype and explain how it can help schools and other institutions lower costs, while assisting the custodial staff.

Activity 1: Make a design in Tinkercad to upcycle
Activity 2: Explore a recycling facility
Activity 3: Code an intelligent garbage can
Watch now!
In the season finale, BB's glitch gets worse and Alex notices something is amiss as Mr. Lingley isn't in the lab. Meanwhile, Makers (and sisters): Megan and Caitlin, St. John's, Newfoundland and Labrador, share what they learned about lessening their carbon footprint and how local markets can help. Then Nathan Zwicker, Environment Canada Meteorologist, explains how air is a fluid and can move pollution around the globe. Finally, the b.Board is transformed into an air quality sensor as Rohan in Fredericton, New Brunswick, has to create a school project. To do this he calls his friends Femi and Alex in London, United Kingdom, to help.

Activity 1: Learn about how kids can help lessen their carbon footprint
Activity 2: Learn about air quality from a meteorologist
Activity 3: Code your own air quality sensor
Watch now!
Have a show idea or know a talented young maker who wants to share their project? Let's connect! Email us info@brilliantlas.ca
We are here to help teachers, youth, and communities innovate and develop a sustainable and socially responsible entrepreneurial spirit.
Ask us for help